Download the Zoom App
The app can be downloaded to your laptop, tablet, or phone! Play yoga on the go!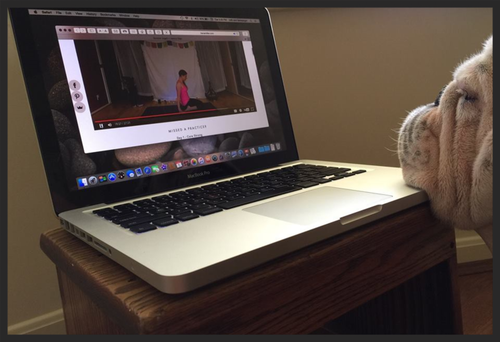 Archived Practices can be accessed here.
Important DATES and Link to LIVE Yoga Classes:
All LIVE Classes will meet here:
Monday, February 4, 2019 from Noon-1 PM est
New Moon Adventure
and
Wednesday, February 20, 2019 from 9:00-10:00 AM est
Full Moon Adventure
January's Moon Practices
New Moon Practice
Make decisions that include your heart and feelings. As you build your foundation for the New Year, discover how to create systems and structures that will support your ventures instead of sabotaging yourself subconsciously. Strengthen and open your root, lower belly, and upper belly energy centers to feel grounded, creative, and confident in your intentions!
(hips, legs, lower back)
---
Next Full Moon Practice
Monday, January 21
8:00-9:00 am EST
Tap into your creativity and look for areas to express it!
Ready to Detox and Flush out all the extra 'weight' you've been carrying around?
Whether you've been feeling physically weighed down or Negative Nelly tried to set up in your head, this is the class to clear it all out and get back to where your heart belongs!
For my friends who have been stuck behind the computer for too long. Winter weather got you house bound and your hips are feeling tight and stiff!! Get ready to run up those stairs with ease! Jump up and down out of your chair without blinking your eyes! Pick up your fur babies and get ready to dance!! (hips, flow, core)
---
YOUR PRACTICE FOR THIS WEEK!
---
A practice to wake you up.
Introduction to the Moon Salute 🙂 (hamstrings, hips, quadriceps, tight legs, honor the intuitive side)
---
Great for Afternoon or Evening
Rock and Roll, open those hips with this Moon Salute Variation!! 🙂
(hips, hip openers)
If you are interested in getting more details about the Burning Bowl and Smudging Ceremony from 2017/2018 that I mention at the end of this video, send me a quick message via the form below.
---
Wild Wonderful Wacky Yoga – Intermediate to Advanced Practice
Sea Salute – Please note this is such a fun practice I decided to share it to introduce you to the Sea Salute. The audio does cut out 17:50. My hope is to dub the audio or re-record it. In the meantime it's nice to just see what is possible with all of these Salutes 🙂 )
* Remember this is an Intermediate/Advanced class designed for the yogi who has been playing for a little while and wants to up the ante and learn some of the finer details on how to get into poses like crane, headstand, upward facing bow, wild thing……..and much more!
(Please remember to listen to your breath and body as you do any practice. When you are trying to determine your 'edge' – how far you should go in a pose, pay attention to your breath. If you are holding your breath, grasping for it, or breathing short, quick breaths come out of the pose – you're pushing too hard. The goal is to breathe even, steady breaths in all that you do. They may not always be deep but they are steady.)
---
Questions, comments, requests?