Download the Zoom App
The app can be downloaded to your laptop, tablet, or phone! Play yoga on the go!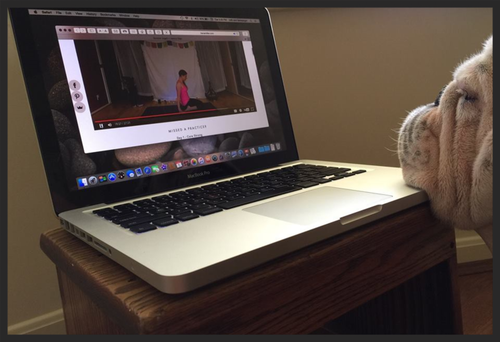 Archived Practices
can be accessed here.
---
Important DATES and Link to LIVE Yoga Classes:
All LIVE Classes will meet here:
NEXT LIVE PRACTICE
NEW Moon Adventure
MONDAY
June 17, 2019
12:15 pm eastern
---
June's Moon Adventures
Gemini new moon
Fire up that core to have the jet fuel necessary to run your dreams! Play through plank, side plank, and variations of chair.
(core)
May's Moon Adventures
Taurus New Moon
This new moon plant the seeds for your dreams. Belly Down backbends will help as they boost your confidence and stoke the fire of your spirit!
(shoulders, heart, backbends, confidence)
---
YOUR PRACTICE FOR THIS WEEK!
---
A practice to wake you up.
Follow your breath, forget the white rabbit 🙂 When you feel like you're always in a hurry and you're only getting behind this is the practice for you. Flow with your breath in this soothing and calming yoga dance.
(relaxing, calming, breath,  all over body, shoulders, core, legs)
---
Great for Afternoon or Evening
Happy Summer Solstice Celebration!! Connect to the elements in this class and flow through the sun salutes.
(flow, energy, full body workout)
---
Wild Wonderful Wacky Yoga – Intermediate to Advanced Practice
Achy hips? SI hurting? Want to improve balance? This is your class!! Strengthen your hips while you open them! This is a total tour around the hips! You will be ready for dancing!!
(hips, balance, lower back)
* Remember this is an Intermediate/Advanced class designed for the yogi who has been playing for a little while and wants to up the ante and learn some of the finer details on how to get into poses like crane, headstand, upward facing bow, wild thing……..and much more!
(Please remember to listen to your breath and body as you do any practice. When you are trying to determine your 'edge' – how far you should go in a pose, pay attention to your breath. If you are holding your breath, grasping for it, or breathing short, quick breaths come out of the pose – you're pushing too hard. The goal is to breathe even, steady breaths in all that you do. They may not always be deep but they are steady.)
---
Questions, comments, requests?