Download the Zoom App
The app can be downloaded to your laptop, tablet, or phone! Play yoga on the go!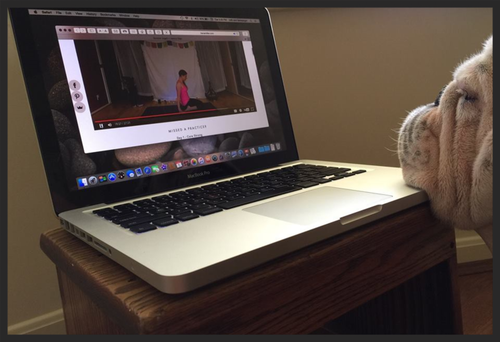 Archived Practices
can be accessed here.
---
Important DATES and Link to LIVE Yoga Classes:
All LIVE Classes will meet here:
NEXT LIVE PRACTICE
PISCES FULL MOON
Wednesday
September 17, 2019
1:30-2:00 PM ET
August's Moon Adventures
New Moon Virgo
A supine practice to ease tired legs and work the kinks out of your back! Great for those days when your energy is low and you need to recharge your batteries. Excellent for those times when you having trouble building momentum and getting moving. A sweet and gentle practice perfect for sleepy new moons!

(tired legs, back, shoulders, low energy)
July's Moon Adventures
LEO New Moon
Explore unconditional love on the mat with this practice. Connecting to community to remind you of your gifts and talents. Let go of Karmic Patterns that have kept you trapped in illusion and stuck. A sweet reminder that your practice compounds over time and creates multiple benefits for you. Strengthen your core, find the mid-line, and enjoy flying through variations of Warrior III and Warrior 1. Open your hips as you fly into and out of eagle in this warrior dance.
(core, back, hips)
Capricorn Full MOon
---
YOUR PRACTICE FOR THIS WEEK!
---
A practice to wake you up.
Effort versus Surrender – what does that mean on the mat and off? A sweet flow to boost your energy and wake up your spine! Get ready to have an amazing day as you move through variations on the Sun Salutes.
(flow, wake up, boost energy, open side bodies, shoulders)
---
Great for Afternoon or Evening
A very special night – Yoga Therapeutics for the Shoulder!!!! Learn the basic and fundamental alignment to happier shoulders!
(shoulder, therapeutics, basic shoulder alignment)
---
Wild Wonderful Wacky Yoga – Intermediate to Advanced Practice
Continuing the play from Monday, strengthen that internal fire to pursue your passion. Illuminate rather burn out. Core strengthening with poses like boat, warrior III, and more!
(core, tone your tummy, strengthen your back, flow)
* Remember this is an Intermediate/Advanced class designed for the yogi who has been playing for a little while and wants to up the ante and learn some of the finer details on how to get into poses like crane, headstand, upward facing bow, wild thing……..and much more!
(Please remember to listen to your breath and body as you do any practice. When you are trying to determine your 'edge' – how far you should go in a pose, pay attention to your breath. If you are holding your breath, grasping for it, or breathing short, quick breaths come out of the pose – you're pushing too hard. The goal is to breathe even, steady breaths in all that you do. They may not always be deep but they are steady.)
---
Questions, comments, requests?